| | |
| --- | --- |
| |   Return to the Aegean Sea |
Imerovigli View   11 x 15


From our terrace looking past ancient volcanic ruin into the Santorini Caldera.

Venetian Fortress   15 x 11

Once-guarded entrance into Crete's Heraklion harbor.
Knossos Vision   22 x 30

Knossos vision past and present of the North gateway into King Minos' ancient Cretan Palace.

Janice, My Bride of 50 Years   15 x 11

Janice, my bride of 50 years, reading up on Minoan Civilization during our Aegean journey.




Eternity   30 x 38

During a moment of emptiness and silence in this Santorini restaurant, high above the Aegean, the bird and I glimpsed eternity.

Mediterranean Fantasy   30 x 38

This fantasy came strictly out of my head. As the painting progressed, I found myself looking out a window of an empty cafe overlooking a Mediterranean harbor.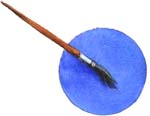 Return to
        Painting Index

Shoal Creek Studios

       About the Artist
                         To contact Shoal Creek Studios for purchasing information click here: