| | |
| --- | --- |
| | Churches in their Eternal and Human Context |
Moon Over Notre Dame   15 x 22 1/2


The moon and Notre Dame rise silently above the chaos and pollution of the modern world. From our small room in the Hotel Esmeralda, we watched in awe, and I wondered if this was progress or decline.

On the Edge   30 x 22

Some people believe that the island of Santorini is the site of the legendary Atlantis. This dizzying view of Oia perched on the edge of an ancient volcanic crater made us wonder. Do the ruins lie beneath the waters of the blue Aegean that now fills the crater?







Fisher of Men   12 x 22

Mykonos

As I walked around the harbor of Mykonos in the Greek Isles, this scene stopped me. The empty blue chairs and the empty red fishing boat below the red-domed church seemed somehow related. Where are all the people? Have they been caught by the Fisher of Men?

Church of the Jesuati   12 x 15

Quickly painted on a cold February day from a canal bridge, this scene caught my eye with its old Venetian connections between community and church.
Father Sun, Mother Mary   30 x 38


Father Sun shines down on a Shoshone chief and his son parading with their tribe through the streets of Pocatello, Idaho, past one of white man's churches.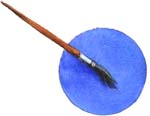 Return to
        Painting Index

Shoal Creek Studios

       About the Artist
                         To contact Shoal Creek Studios for purchasing information click here: