| | |
| --- | --- |
| | Ancient Dancers in Their Spiritual Context |
Angkor Dancers   38 x 30

A scene from images Janice and I brought back from Angkor in Cambodia. The young Buddhist monk is meditating in front of an ancient wall relief of King Jayararman's dancers. From the gate tower above, the king keeps watch in the four directions.

Dancers at Montserrat   40 x 32

A scene inspired by music from the Red Book of Montserrat.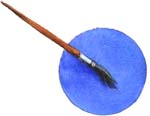 Return to
        Painting Index

Shoal Creek Studios

       About the Artist
                        To contact Shoal Creek Studios for purchasing information click here: