| | |
| --- | --- |
| | Harbors, Beaches and Canals |
Naoussa Harbor   15 x 22


On the Greek island of Paros, a richness of boat geometry under the ever-watchful eye of their church.

Camogli Beach Boat   22 x 15

A moment's glimpse into the lives in a small town on the Gulf of Genoa.
Camogli Clouds   15 x 22 1/2

A harbor scene before the storm.

Rio Dei Greci   22 x 15

This view up the Rio Dei Greci in Venice caught my eye with the leaning 16th century campanile of San Giorgio dei Greci. It epitomizes the magic of the ancient city set on a watery foundation.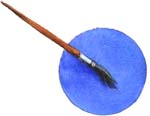 Return to
        Painting Index

Shoal Creek Studios

       About the Artist
                       To contact Shoal Creek Studios for purchasing information click here: