Painting into the Light Through
Space and Time
Acropolis Now   22 x 30

We checked into the small Herodian Hotel in Athens with no idea of the sight that awaited us from the rooftop terrace. It was as if we could reach out and touch the glowing Parthenon, which I did with my brush as Janice sat mesmerized.
Dancer in Delos Dusk   15 x 22

As we walked ancient streets and peered through ancient doorways, I felt a sadness that the Greeks, and later Romans, who once lived here are gone. Their pleasures and dreams are finished. Only this dancer still dances on the island of Delos, birthplace of Apollo, Greek god of music and light.
Doorway to Nowhere   14 1/2 x 21 1/2
View of Caldera from Cathedral of Fira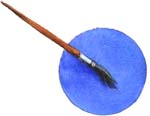 Return to
        Painting Index

Shoal Creek Studios

   About the Artist
      To contact Shoal Creek Studios for purchasing information click here: