| | |
| --- | --- |
| | Workshop |
Flowing Flowers   15 x 22
Here are two paintings from the Barbara Nechis "Watercolor from the Heart"
workshop in Greece. Both were exercises in painting what you see, while
exploring the magic of your media, in this case wet on wet watercolor.




Santorini Serendripity   15 x 22

This is a scene painted while "going with the flow" of wet on wet watercolor. Viewers can play with their own perceptions of what I was seeing.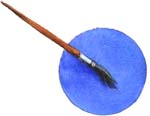 Return to
        Painting Index

Shoal Creek Studios

  About the Artist
      To contact Shoal Creek Studios for purchasing information click here: