| | |
| --- | --- |
| | Return to Texas and Austin |
Capitol Guardians   29 1/2 x 37


I was overwhelmed by this view of the graceful old Texas capitol "guarded" by such powerful new structures.

Queens of Pecan Street   29 1/2 x 37

At first this scene was to be called The Driscoll, Queen of Pecan Street, but the other historic beauties were jealous and demanded royal recognition. Even though there are taller buildings, these queens still rule. Long may they live!




Family Farm   15 x 22


This family inadvertently posed for me into the light. It was a moment of mutual interest.

The Mustangs   17 1/2 x 15

My celebration of the work of the mentor of my youth, Alexander Phimister Proctor. He sculpted this dynamic family from models of King Ranch. Did he mean to portray them charging the U.T. tower? Maybe so, since J. Frank Dobie sponsored him.



Luckenbach Winter Sunset   30 x 38


A memorable Texas Hill Country scene. On Christmas Eve, leaving Luckenbach after being greeted there by nobody but chickens and their rooster.

Moon Over Austin   26 x 36

Intermission at the Austin Symphony




Gulf Outpost   12 x 18


Watery reflections of life at land's edge.

Lunch on the Lake   14 x 19

What could be better than lunch at the Oasis, high above Lake Travis? Painting the scene while having lunch at the Oasis.




Bremond Beauty   22 x 30


All the houses in this historic block were built by members of the Bremond family in the 19th Century.

Pfluger Flyover   22 x 30

A place where people, not cars, can fly over Lady Bird Lake.




Violet Crown   22 x 30


Named for Austin's sky (courtesy of O. Henry) and the cinema on 2nd Street.

Cafe on 2nd Street   10 x 11

Austin is becoming genuinely urban and I love it.




Evening at the Capitol   22 x 30


Our state capitol still reigns supreme in its surroundings.

Our World   20 x 35

Filled with family paintings, photographs, and a tapestry of our sons' first drawings, this is our magical tree house.




New Austin   22 x 28


A scene from atop a condominium near Rainey Street, the apartment of a friend of a friend. When I asked my friend to ask his friend if I could have a look, the FOF said, "absolutely!" He was out of town but told the concierge to let Janice and me in. There we found a bottle of wine and two glasses waiting for us to enjoy while I sketched.

Littlefield Fountain   28 x 22

Not until I studied this scene of the University of Texas tower, did I truly appreciate the fountain sculpture. Pompeo Coppini, an Italian American sculptor, created the World War I memorial to students who died in the war. The lady who stands at the prow of the ship holding torches aloft is Columbia, the spirit of independence.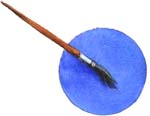 Return to
        Painting Index

Shoal Creek Studios

          About the Artist
                        To contact Shoal Creek Studios for purchasing information click here: